Get ready for the ultimate Dandiya Nights! Yes, Navratri is almost here and we can't wait anymore to go all 'Dholida Dhol Re Vagaad Mare Hinch Levi Che!'
Navratri is all about the nine nights of playing Garba and slaying the most colorful Chaniya choli. Wait!!! But didn't you buy your outfit yet? Is FOMO haunting you? Relax!
For those who are still finding the right fashion outfits for Navratri, well, you're in the right place! You have to be decked up, adding sparkle and light to all nine nights! It sounds long, but it isn't. IKYK! So, here we are. We have curated a game-changing list of the best Navratri outfit ideas for ladies!
Day 1: Orange for the Start
When it comes to fashion outfits for Navratri, most people start with traditional and ethnic. It's not just orange, but rather variations of the shade- Peach, Coral, Saffron, Goldenrod, Tangerine, Tiger's Eye, and Apricot.
Gujarati Chaniya Choli for Garba Nights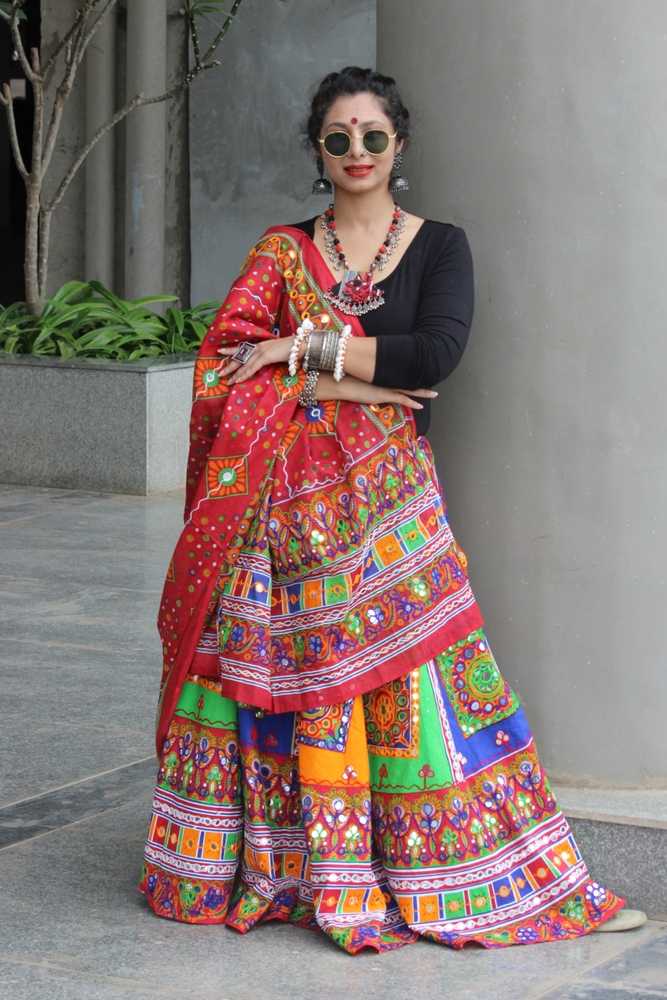 Chaniya Choli and Garba are a match made in heaven. The flare of lehengas during the turnarounds is simply conveying the Navratri mood. Chaniya Choli is a vibrant lehenga skirt, blouse, and dupatta that is embroidered with applique patterns and heavy mirror or sequins work. It comes with a heavily stitched georgette dupatta.
Pair this colorful Chaniya Choli with an oxidized Choker, Rani Haar, Jhumka, Bangles, and Maang Tika. Exaggerate the whole Chaniya choli look with smokey makeup, which goes with your Navratri outfit.
Day 2: Surreal White for Traditional Navratri Outfit Ideas
White is a blissful color; it signifies the victory of good over evil. It reflects the arrival of light and the end of darkness. Wearing white is utterly symbolic of the second day of the festivities.
Classic Patola Sarees from Gujarat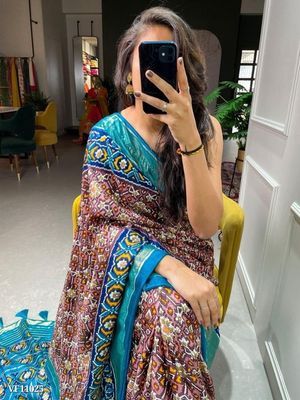 Belonging to the state of Gujrat, Patola originates from Patan. These are ideal as fashion outfits for Navratri! A Patola Saree is made out of pre-dyed silk threads that are woven with a double Ikkat weaving method, making colorful, intricate embroidery all over the saree.
FYI, these sarees are worn with gold and Kundan accessories. Pair this saree with a self-embroidered Aari Work Blouse Design. Royal Look!!
Day 3: Red for Off-Bit Navratri Outfit Ideas for Ladies
Red is Power! Be it Durga Maa or Amba Mata, we always associate them with the color red. Let's be bold and add some extra dash of Hot-Red to your fashion outfits for Navratri.
Anarkali Salwar Suit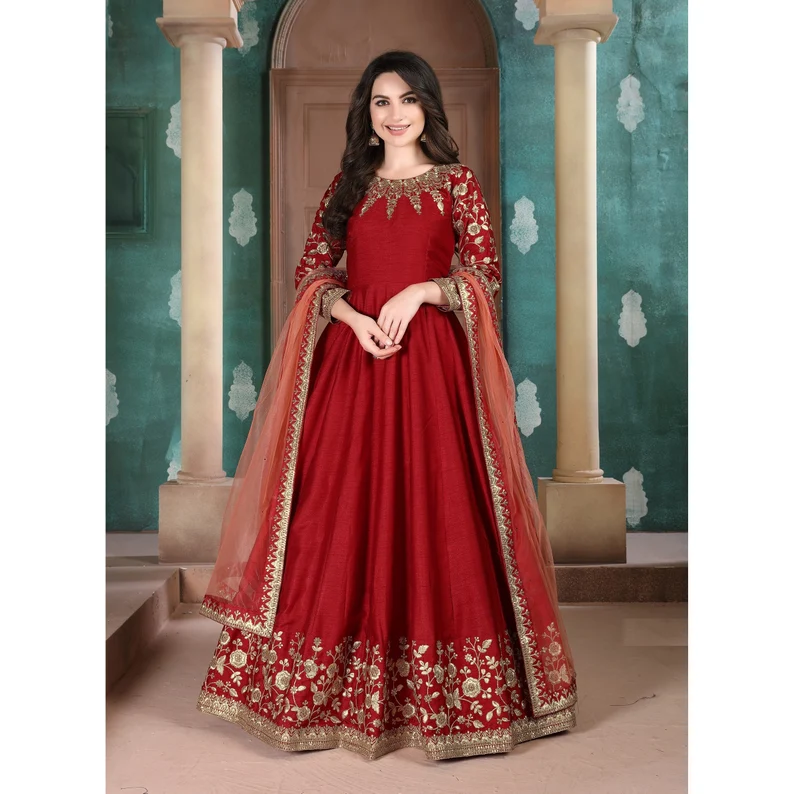 It's day three, and it's time to turn your Sanskari self into a DIVA! Put on an Anarkali suit and dazzle it with the best block heels. Plenty of frills and that twirl of an Anarkali dress Ah! It's absolutely gorgeous. FYI, Anarkali salwars are prestigious attire worn by Mughal courtesans.
Embellished or embroidered, this suit has a beautiful frock (A-line or asymmetrical), which also comes with a cape or a short jacket layered with net-dupatta with Gota Patti work. Additionally, there are Anarkali gowns that give a modern-traditional look. Perfect attire to carry this Navaratri!
Day 4: Classic Night Blue for the Jazz
It's day four; time to go a little crazy! Night blue is one such color with zero haters. Blue certainly signifies royalty! Ideally, Night Blue, Turquoise, and Indigo are "THE" shades for fashion outfits for Navratri. By day four, you need Indo-Western Navratri outfit ideas.
Ethnic Jumpsuit with Frill Shrugs
Festivities call for something new and refreshing! And an ethnic jumpsuit is a perfect fit for the nighttime dance party. You can freely move around, comfortably packed in one cloth from neck to toe. The neckline can be of your choice; ideally, a V-shaped and a U-shaped go best with an ethnic jumpsuit. Boat necks are in the trend too!
Apart from that, you can accentuate with a well-embellished frill shrug. Long shrugs are in trend lately; try this style with silver long hoops. This whole look is an unmatched combination of comfort and elegance! "Cannot get my eyes off her!"
Day 5: Yellow is Your Climax Look
Yellow is a showstopper, and we can't agree on this any less! There are a dozen different shades of yellow: like Mellow yellow, Royal yellow, Gold (golden), Mustard yellow, Lemon yellow, Greenish Yellow, Chartreuse yellow, etcetera. Here, you go all YELLOW on day 5!
Indo-Western Co-ord Sets with Oxidized Jewelry
How about a Co-ord set on day 5? This is where contemporary style meets traditional charm. Instead of opting for just a salwar kameez suit, you can wear a Co-Ord Set! Well, the bottomwear can be a skirt or a trouser. If its a trouser, it can be a plazo style or a kind of cigarette pants. The length of both depends on the wearer's height and personality.
The topwear is embroidered with the best silk threadwork and beading. As a suggestion,you can also go for gujarati embroidered co-ord sets, totally syncing with the Navaratri vibe. Ideally, it is worn with silver and oxidized ornaments. Colorful pom-pom ornaments, tussle earrings, or traditional hoops are gathering quite a fanbase.
Day 6: Elegant Green for Navratri Outfit Ideas for Ladies
Well, from day 6, the real Navratri begins! You can't ever go wrong with green, and it is a significant shade during the festivals. We chose green as the color for the night. Shades like emerald green, sea green, orchid green, and many amazing shades of green are your Bae for the day!
Angraksha Peplum Tops with Trousers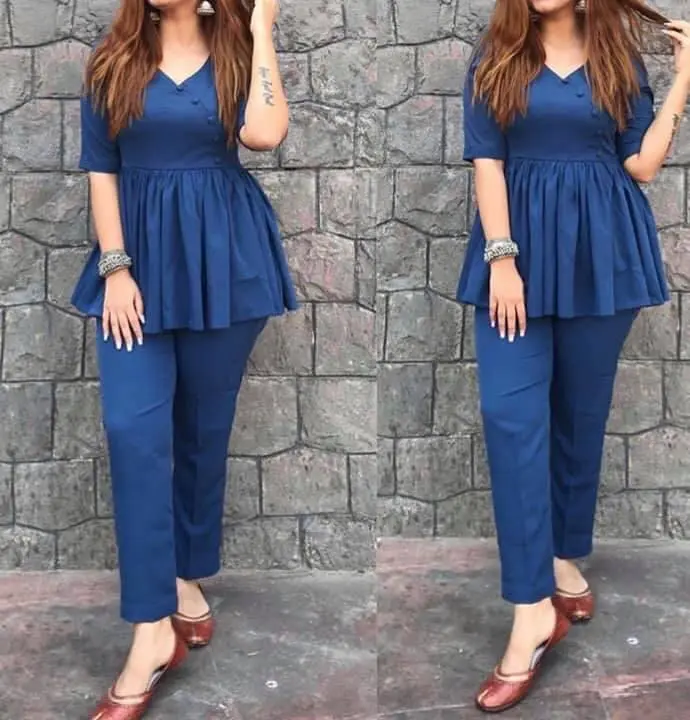 Angraksha is a trendy style that has been in fashion since the Nineties fashion era. Which is now back again! This is a wrap-around style with a V-shaped neckline. This usually has thread attached to either corner of the top, tied on either side of the dress.
As one of the most quirky traditional Navratri outfit ideas, this can be worn with your dhoti trousers or ethnic oxidized ornaments. Even a Bohemian scarf on the neck might be a great idea to set the look.
Day 7: Gorgeous Grey for Navratri
By day 7, you are not in such an experimental mood, but you want to play safe yet look ravishing. Here, we have some off-bit Navratri Outfit Ideas in the color grey! Because life is much better in gray.
Denim Jacket Dhoti Saree
A denim jacket for Navratri? YES!! Denim is the best fabric for Indo-Western outfits. Traditional prints enhanced on fine denim, with applique patterns on the collar, back, and pocket- make it more than a jacket! Here, you have a Dhoti saree look that needs a bit of impromptu styling.
Though known as a warrior drape for Marathi women, a Dhoti-style saree with a traditional denim jacket is one of the most out -of-the-box Navratri outfit ideas. But you better personalize them with some extra Accessories for Durga Puja to give them an iconic look.
Day 8: Purple, Lilac and Lavender
On day 8, you need a blushing shade, and that's why PURPLE! Not trying to flex, but this could be one of the unconventional fashion outfits for Navratri. Thank me later!
Pakistani Style Salwar Suit
What is so different about Pakistani suits? This is one of the millstones of modest fashion; it gained quite a bit of fame during Lakme Fashion Week 2022. This is an A-line shaped kurta with a little looser fit and flared sleeves.
Along with that, these suits have a broad lace border on the cigarette trousers worn as bottom wear. You can replace these with semi-loose plaazos too! During the festivities, you should pair these suits with a net Dupatta and alluring Jhumkas.
Day 9: Ravishing Pink as the Finale Look
It's time to say adieu to the nine amazing nights. For the finale night, you have to wear pink! You would look drop-dead gorgeous in Pink. Here, we have the best in Hot-Pink, Fuschia, and Magenta.
Glamourous Chiffon Saree with Sequins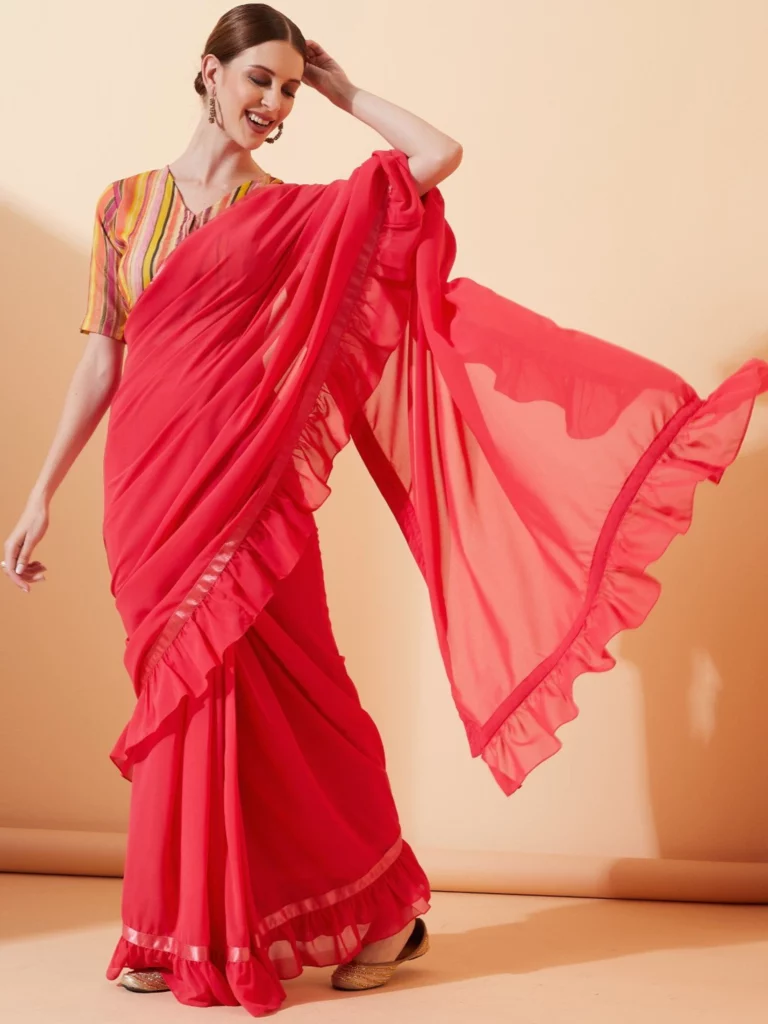 Sequins on chiffon look like a fairytale dress. Chiffon sarees are softer and thinner, and they belong to the georgette fabric family. Wear a show-stopping chiffon saree that has stunning sequin work all the way through, beautifully adding glamour and grace to your look, dress, and day. Pair this style with crystal ornaments and beadwork bangles.
Conclusion
Well, that is the energy you would like your dress to radiate on Durga Puja and Navratri! Buy all these amazing styles and create the best fashion outfits for Navratri.
Festivals like Navratri and Durga Puja—these nine nights are a divine celebration. Get your hands on all the kinds of dresses, styles, and extra accessories you want your look to pair with from gintaa. This is the ultimate platform where you can bag everything from makeup to footwear in one go. Buy the best fashion outfit ideas for Durga Puja from gintaa. Exclusive offers, lowest prices, and the best deal for this festive season.
Now pick an outfit from the list of best fashion outfits for Navratri and get ready to slay!