Excited for this festive season? Are you ready to celebrate the best time of the year? All set to recollect the essence from different corners of India??
I mean, of course, I'm pretty sure you are quite ready with your attires to be flexed this festive season. Starting with the vibe of "koto jama holo" for Durga Puja, "A halo" for Navaratri, Ram Leela in Dussehra, Laxmi Puja, Patakhas in Diwali, Bhai Dooj, and lastly the thekua and Geet in Chhat festival- it's time to create memories for the treasure of your heart to be cherished for the rest of life.
But wait!! You are surely missing out on something!! Just dressing yourself isn't enough. We revamp our homes too. Decorating our homes is a significant part of the Indian festivals. I'm not missing out on it may be you are 😉
Need Home Decor Ideas?
Festivals are the most awaited months of the year but it can be quite tiring, especially the preparation part. It officially starts with two main things- planning the new room arrangement and deep home cleaning. No matter how hard you clean or arrange your house for the rest of the year, the cleaning of Durga Puja and Diwali is beyond everything!
Rearranging furniture covers & carpets, lights and color schemes, idols, plants and whatnot!! Some new, some to getting everything cleaned! You give it your all to create the ambiance you want to remember for years to come.
Families come together to rearrange the house and sweep clean every knock and corner of the house. In this blog, we'll look at ten inspiring home decor ideas that will make your home space shine during the festive season.
1. Light-Up with Fairy Lights and Hanging Lamps
Diwali lighting transforms the entire house from a dull space to a brightly lit corner. Hanging colorful LED Lights, string lights, fancy fairy lights, bright bulb chains on curtains, and artificial plants, across the ceiling line, and other spaces of the house. It feels like sitting under the canopy of stars- Utterly Picturesque!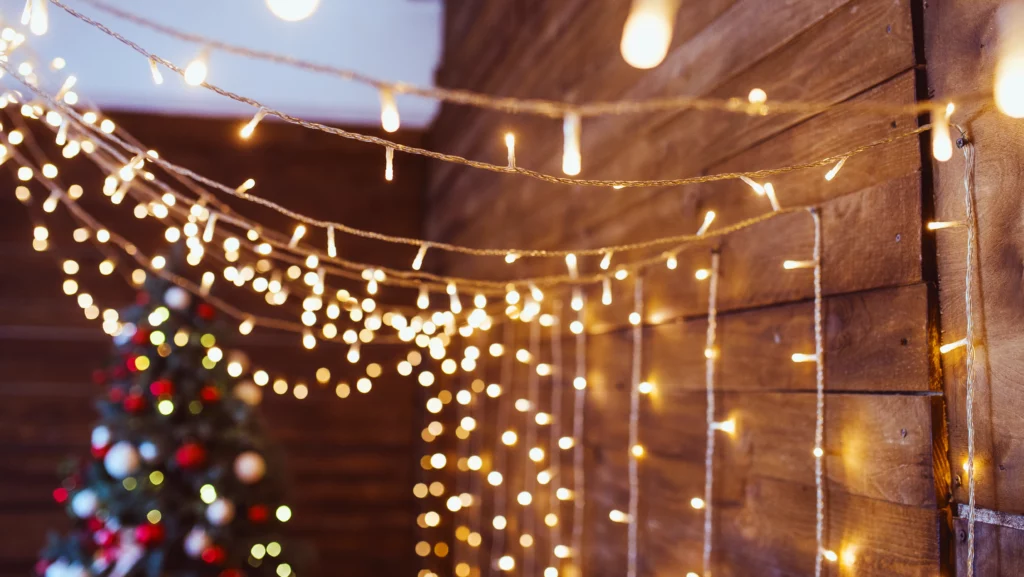 Most vibrant and bright color lovers like to go a little extra with their lighting. You can use ideas like making a feature of furniture, filling empty vases, bottles, or Jars, framing your mirror with lights, hanging them above a bifold or sliding doors and so much to do with it. You can also try putting up the best metal tabletop tealights or hanging lampshades as accent decor. Such luminous home decor ideas for Diwali always come off the brightest.
Price: ₹499-999
Special Tip: Go for Neon Lights! The color neon slays everything. The bright green, orange, and pink shades work best with LED lights unduly.
2. Sustainable Clay Diyas and Fragrant Wax Candles
Home decor ideas for festivals and Diyas are like a match made in heaven. Instead of buying expensive Diyas, go with eco-friendly options. There are beautiful handmade 'Diyas' constructed out of burnt clay. On disposal, these decompose back into the earth. You get a variety of different types of Diyas, tall lamps with five threads, layered Diyas, mini oil Diyas, and lots more.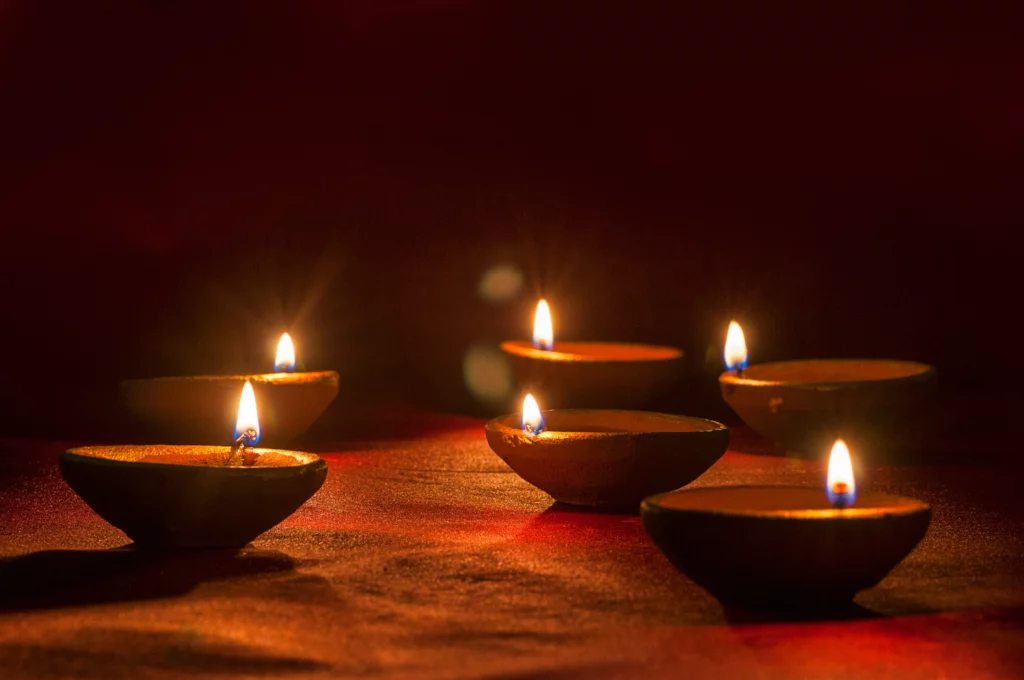 Candles are pretty sustainable too and the sweet fragrance works for aromatherapy. Usually available in Vanilla, Cinnamon, Sandalwood, and Rose scents. There are a variety of candles, such as lantern candles, glittery candles in a wine glass, jar candles, pillar candles, bubble candles, and water candles.
Price: ₹100-1000
Special Tip: Candle holders work as a beautiful centerpiece for tea tables. Use fragrant candles and decorate the entire house with a variety of themes- Mirror, Rustic, Magical, Bird Cage, and lots more.
3. Traditional Rangoli Art and Alpona Designs on the Floors
Diwali decoration ideas for Home include the most beautiful rituals. A bright rangoli design at the entrance of the house, with vibrant colorful Diyas and flower decorations- a must to have from these home decor ideas being shared. These are the home decor ideas on Diwali we all grew up seeing! But it is quite hard to make. At least for more of us!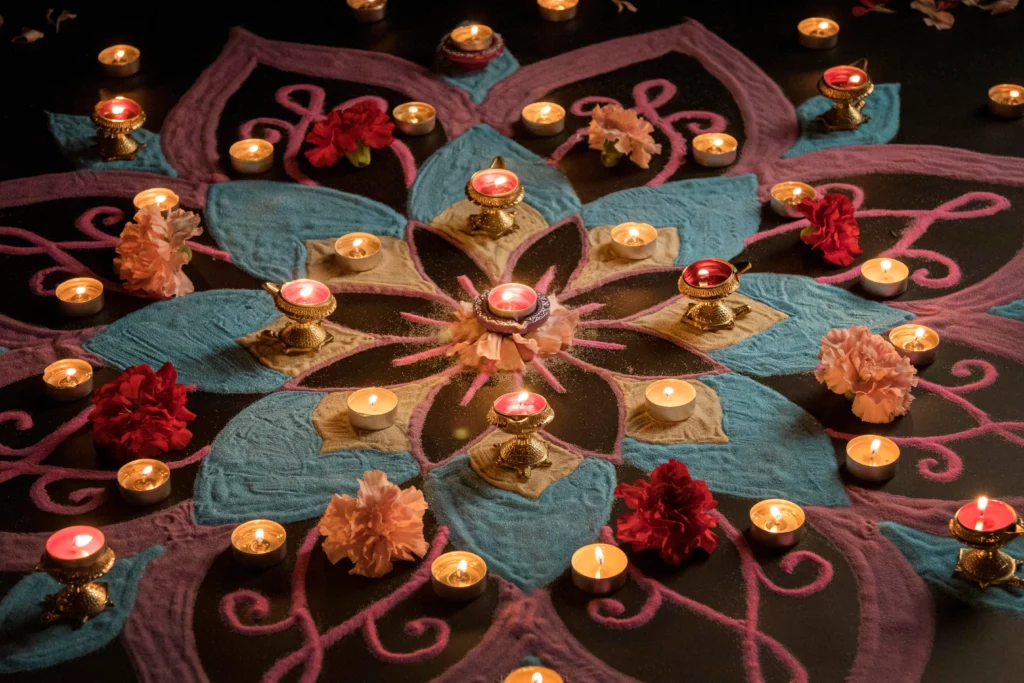 You can use multiple things for your Rangoli designs, such as colorful flower petals, rangoli powder or, chalk powder, colored raw rice, raw beans, pulses, and lentils. One can even use, colorful raw pasta, rice powder, salt, or Epsom salt. Creative!!
Whereas, Alpona Designs are made with rice flour paste or white clay paste. Both designs are traditionally engraved across all floors in the house.
Price: ₹49-99
Special Tip: Use special rangoli stencils for each pattern and design. There are rangoli stickers too, which are perfect for super quick results.
4. Floral Decorations for your Home Entrance
Picking Flowers decoration from the home decor ideas on Diwali can never go wrong. You can either choose fresh flowers for the decor or even the artificial flowers. Just make sure, the entrance of the house is well decorated.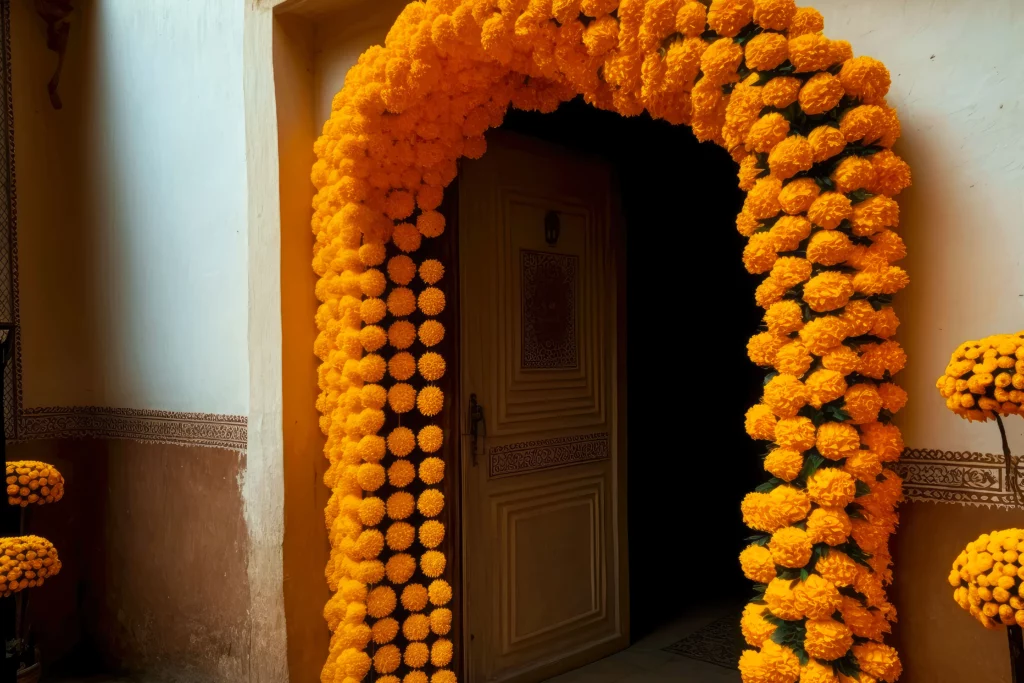 Real flowers always have a special charm when it comes to home decorations. In fact, most fresh flowers are used frequently when it comes to religious functions. It smells so good!!! But artificial flowers do not go bad that easily. In case, you are looking for something that lasts for more than two days then go for synthetic and plastic flowers.
Price: ₹499-1500
Special Tip: The decoration should match the rest of your house. Make sure, if the entrance is floral themed then the house should have the same vibe.
5. Vibrant Wall Hangings and Torans Make the Home Colorful
This is one of the most popular home decor ideas for Diwali and Durga Puja. In fact, putting up wall hangings during the festivals has been quite a thing for years now. But we have a kick for those simple Torans.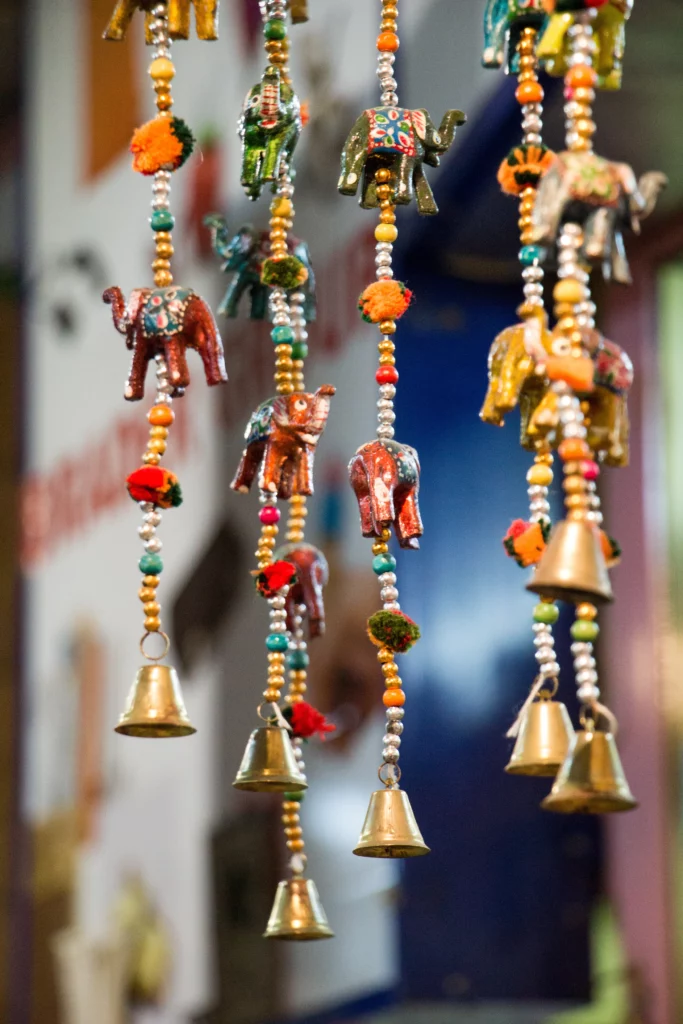 Give a lift to the upper part of the room by these. These immediately infuse charm into the entire room. People who don't want their floor space to look overcrowded with decorative items can surely go up for torans and wall hangings.
Traditional Torans and wall hangings are usually made out of perishable materials such as flowers and leaves. Whereas, there are pretty metal and brass Torans which are sustainable and can be used more than once.
Price: ₹799-1599
Special Tip: Hook the wall hangings properly for the Diwali decoration ideas for home. If not placed properly, it tends to fall over and create a mess. You can always change the wallpaper of the house and make it look totally different.
6. Install Metal Idols and Holy Sculptures
ICYMI, Metal Sculptures are back in trend. Most interior designers suggest sculptures and figurines as a centerpiece. Although sustainability is key to achieving the lowest budget sometimes you have to go over the price.
The home decor ideas for festivals usually have a divine idol. We suggest going for Brass or Bronze Figurines, instead of buying Clay idols for your Puja Room. They might be a little over your budget, but it's a lifetime investment.
Price: ₹2499-4999
Special Tip: If you already own such pretty Sculptures and figurines then go for a Metal Polishing session. Shine it well and new for home decor ideas in the Living room.
7. Floral Decorations for your Puja Room
The best part about Diwali and Durga Puja festivities is the joy of celebrating the divine. Indian families decorate their home with the most amazing flowers such as marigold, rose, jasmine, mogra, and orchids.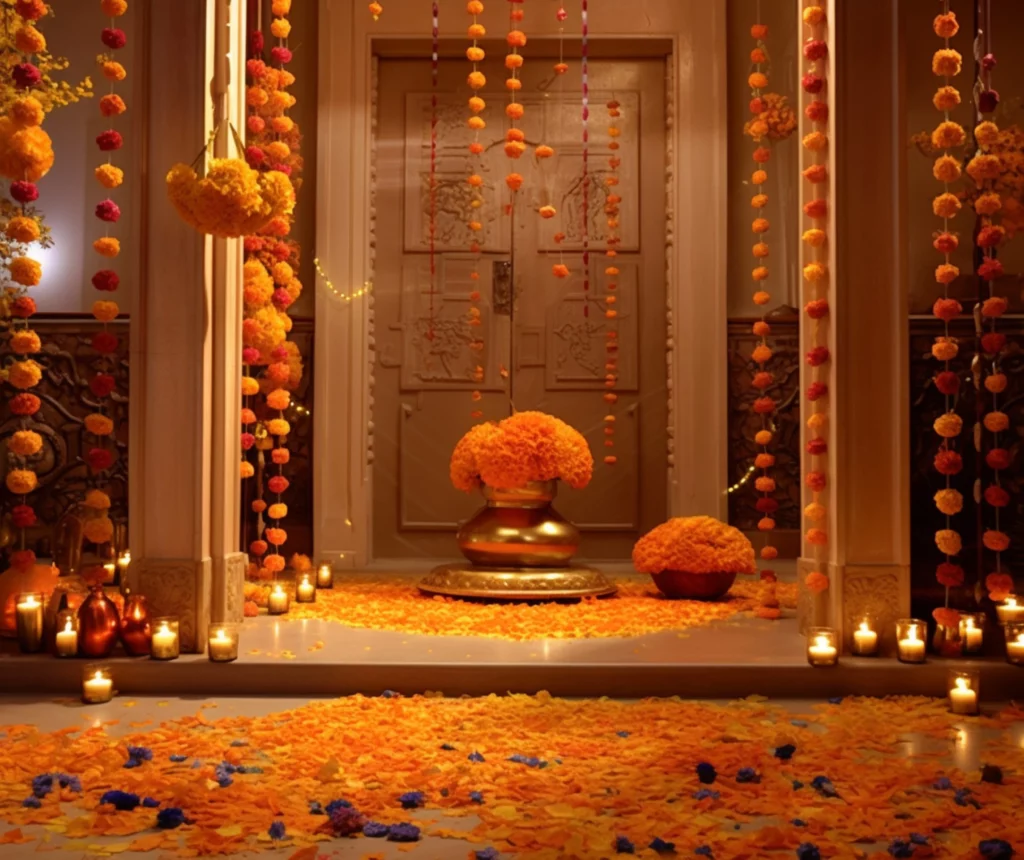 Include your entire family while making DIY floral arrangements for the room and decorate the entire house mandir with those garlands. Usually, fresh flowers are preferred over artificial flowers when it comes to something holy.
But artificial flowers aren't perishable compared to real flowers. Although nothing can compete with the fragrant aura of fresh floral hanging and decorations.
Price: ₹200-1,999
Special Tip: Also, make a pretty floral rangoli design in front of your home temple. Different colored flowers for different segments of the rangoli.
8. Indoor Plants in Metal Pots
Indoor Plants are the best thing when it comes to room decoration. There are different varieties of plants that survive inside the house environment. Such as money plants, lilies, bamboo shoots, and snake plants. These plants can grow in water as well as soil.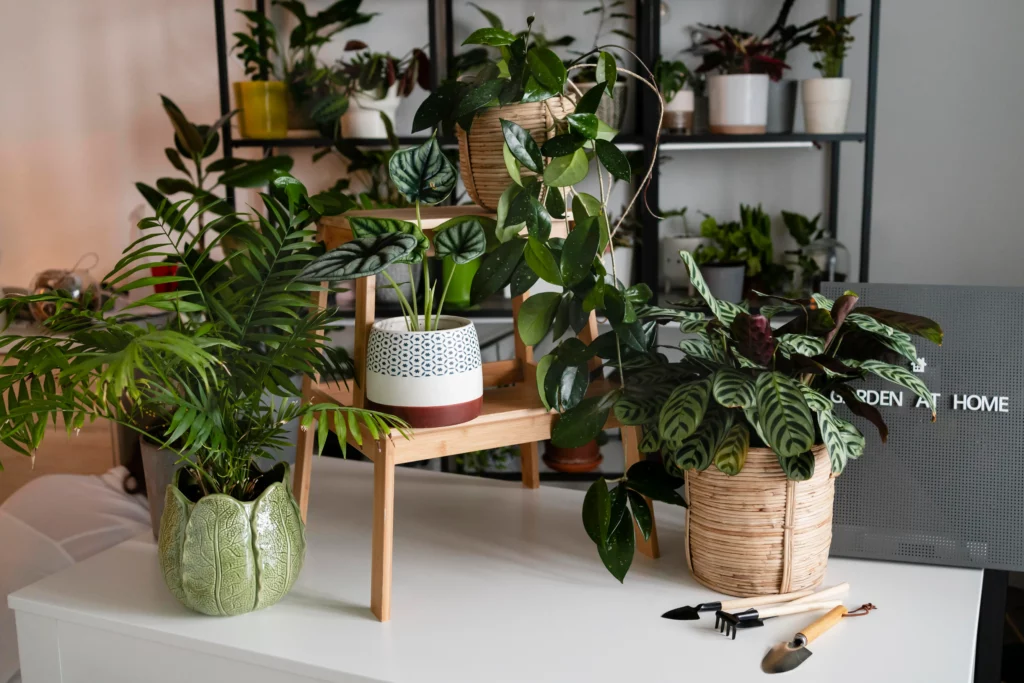 Placing these mini, small shrub-like or little too grown plants gives a lively look to the living room. BTW indoor plants are mostly for drawing rooms for the reason of it being too spacious. Also, avoid placing it in the bedroom.
If you're looking for such pretty plants, definitely check out gintaa. There are a variety of such potted indoor plants that survive with minimal care and attention.
Price: ₹149-1400
Special Tip: Use metal pots and glass bowls for keeping the plants. Include more small indoor plants and situate them on bookshelves and table tops.
9. Fancy Furniture for the Living Room
Changing and rearranging furniture is the best thing when it comes to decorating the living room. Most families opt for refurbishing their old furniture with a change in the covers or cleaning it entirely. That said, you can go for fancy, contrasting cushion covers, table sheets, chair-seat covers, and sofa covers to give your furniture a new look.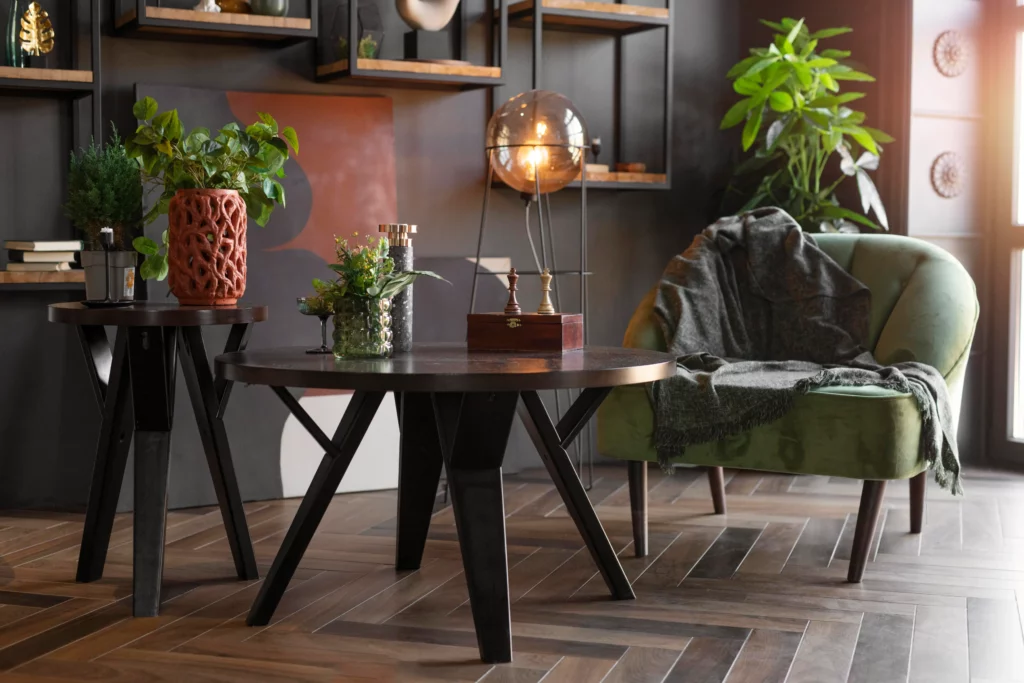 But if you are not that tight on your budget, go for minimal-priced furniture. There are amazing sofa sets, shelves, and other living room furniture on gintaa. Sell your old ones at the best prices and buy yourself a new sofa set.
You can also go for small furniture like a coffee table, a small center table, or a cane jhula for a balcony, or maybe a reskin beam bag that costs you less but you have something new in the space to let that give a new feel.
Price: ₹15,999- 35,999
Special Tip: Home decor ideas for the living room on Diwali or Durga Puja invite multiple guests. Include a Sofa cum bed for the living room, which can work as a bedding for the guests later.
10. Buy New Curtains, Rugs, and Drapes for the Entire House
New cushion covers, bed sheets, drapes, and curtains are some of the Home decor ideas on Diwali you cannot say no to.
Instead of rewashing and putting up the same curtains, go for something new and exciting. But If you are looking to change the theme of your curtains, rugs, and drapes entirely, buy new bedding and curtains and change the tone of your home entirely. Something that works for your entire house.
Clean lines and minimalistic styles- for this you must wisely pick the material & print pattern. Sheer curtains made of lightweight fabrics are utilized for an airy look. They provide privacy while allowing gentle, diffused light into the spaces. Pinch or pencil pleats, as well as tab-top pleats, are popular alternatives for basic curtains. Looking for a small window or constrained space, go for Roman blinds. For something visually impactful for your bedroom go for floor-length curtains.
Price: ₹399-999
Special Tip: Go for solid colors like black, grey, cream, golden, and beige, for a sophisticated look. Choose colors that complement your walls and flooring. Add accent cushions for the living room area.
Conclusion
The home decor ideas are subject to each family and how they would like to revamp their homes. Remember, home is where families come together, celebrating the joy of festivals and making memories- Your comfort zone.
These amazing home decor ideas for Diwali and Durga Puja need the participation of the entire family. Bringing everyone together for the preparations of the festival itself. Now the question is how much should you spend on redecoration?
Well, each family has their budget when it comes to home decor. But even if you do not want to spend a lot on home decor, we have a solution for that too. Get the lowest prices for decoratives on gintaa!
Buy the best sculptures, rugs, wallpapers, wall hangings, and whatever you feel like. Celebrate the best of festivals with gintaa.