He is almost here!! Who?? Don't you know?? Ganesha..! The one who is the "Sukh Karta, Dukh Harta", the one who teaches us nobody is unequal and to be humble to everyone on earth. Here comes the 10-day grand festival. This is the time when streets are filled with the echoes of "Ganpati Bappa Morya", devotional songs, and of course an unsatiating hunger and aroma of Modaks.
For most people, it is just not the festival. It's the time for people to turn moments into memories, it is time for celebration- food, decoration, and of course the dress-up. Whether you are fashioning up for Ganesh pandal darshans, processions, or big, and small friends & family gatherings, your attire speaks the devotion and excitement.
So here we are with the best outfit ideas for Ganesh Chaturthi that will make you look- WOW! And Puja celebration is synonymous with traditional attire and ethnic wear.
Here, we have curated some of the best Outfit Ideas for Ganesh Chaturthi. Let's dive in!
Top 10 Must-Have Looks for Ganesh Chaturthi
It's not just about the styles but also how to pair them for the day. No worries, this blog will help you out with some of the best outfits for Ganesh Chaturthi that you can choose from. Just make sure, you choose a style that you adore and feel comfortable in.
Traditional Fashion with Paithani Saree
You might have seen a Paithani Saree in the movie, Bajirao Mastani. Deepika Padukone and Priyanka Chopra dazzled in that sarees. FYI the song 'Pinga' is a beautiful picture of a gorgeous traditional outfit worn during the Ganesh Chaturthi celebration.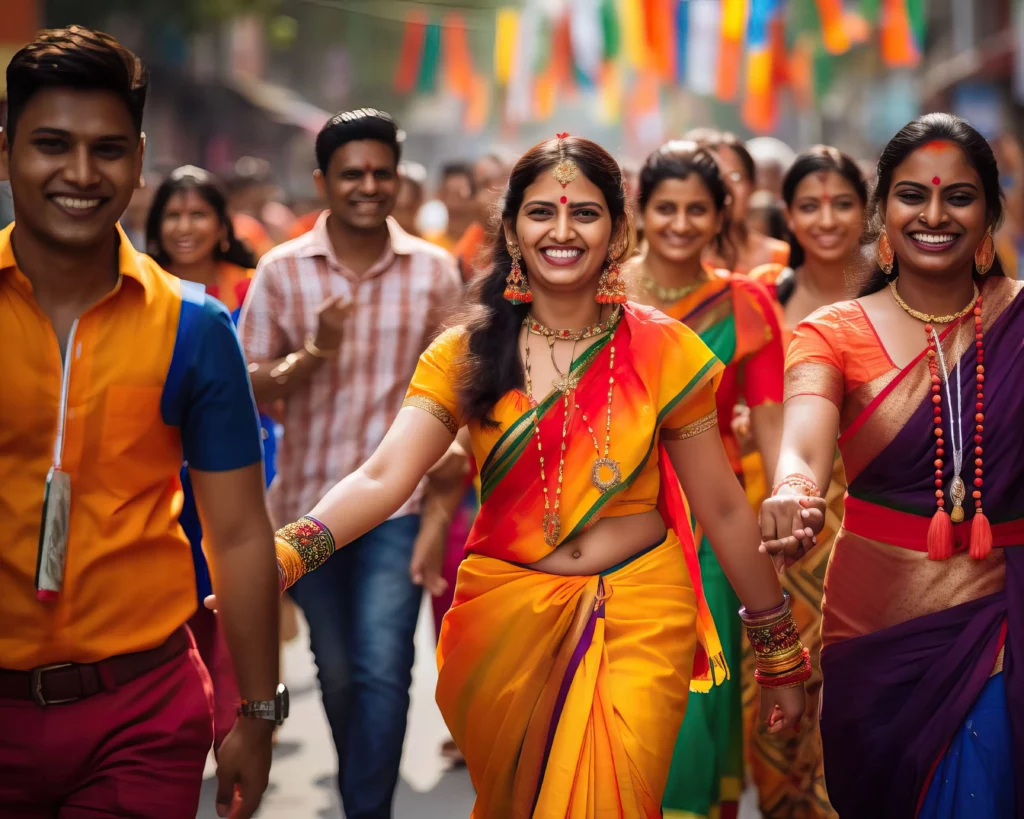 Every Marathi woman owns at least one of these beautiful Paithani Sarees. Oh! BTW This is made with Silk and it is traditionally woven with quality threadwork. (Such a beauty!!) Most sarees are made on a handloom and the embroideries are clustered together.
So why don't you try this beautiful Paithani Saree for this Ganesh Chathurthi and look best by pairing it with traditional Marathi jewelry sets?
Price: ₹3K-8K
Marathi Nauvari Saree in Purple
Purple Sarees are considered prosperous amongst Marathi women. The rest of the country wears red or green after the wedding ceremony, whereas Purple and violet are typical colors worn as a Nauvari Saree.
This one is something among the Outfit Ideas for Ganesh Chaturthi, we all can fancy. Traditional Wedding outfits are the best ones and they're perfect for the festive season to be worn again.
Most Nauvari Sarees are a little longer than the usual drapes. Such Silk Nauvari Sarees are 9 yards long, which is 8.23 meters long. Whereas the usual sarees are just 5.5 meters to 6 meters long. It's time-consuming but all worth the look. Yeah!
Price: ₹9K-15K
Crescent Bindi with Traditional Nathni
Movies like, 'Panipat' are a proper picture of some of such outfit ideas from the Marathi culture. This look is incomplete without the moon-shaped Bindi. To welcome the arrival of Lord Ganesh, married women wear this as a symbol of prosperity and good luck.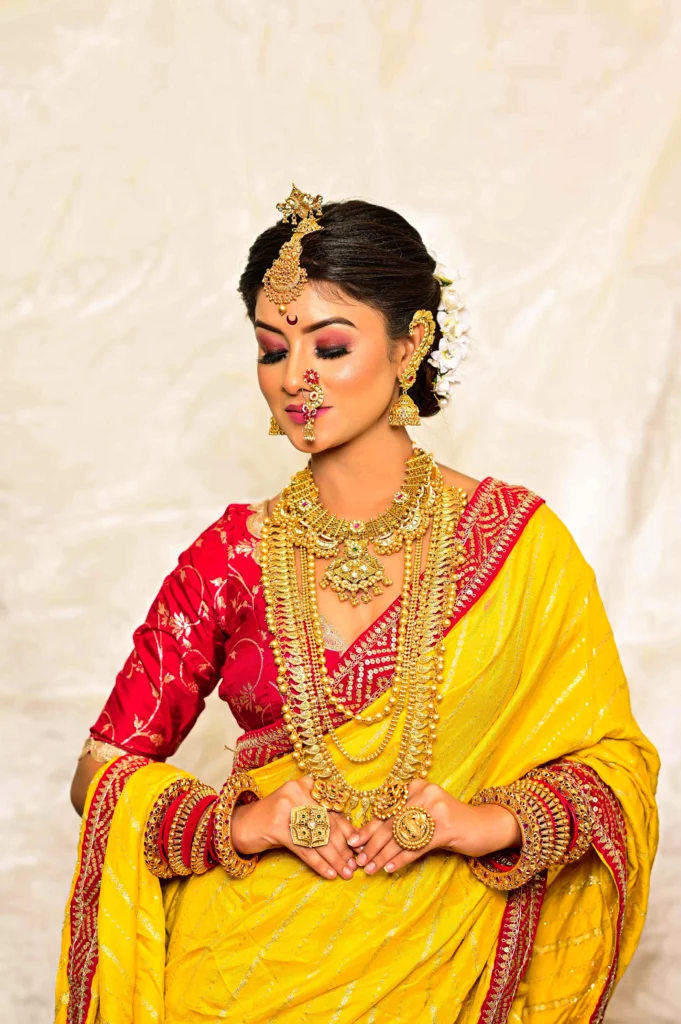 Having said that, the most popular nose ring (known as the Nathni) has many different designs. This includes a classic Pearl Nose Ring, Gold Plated Nose Pin, Traditional Banu Nath, and Kashibai's Maharashtrian Nath from Bajirao Mastani.
Price: Pearl Nose Ring is made with 22k Gold and Freshwater Pearls, which makes it quite expensive (₹8k-15k). The Bollywood style of Kashibai's Nath falls on the medium side of pricing (₹600-700). Whereas, Gold plated and Banu Naths are a little more on the affordable side (₹300-500).
Fragrant Gajra with Banarasi Saree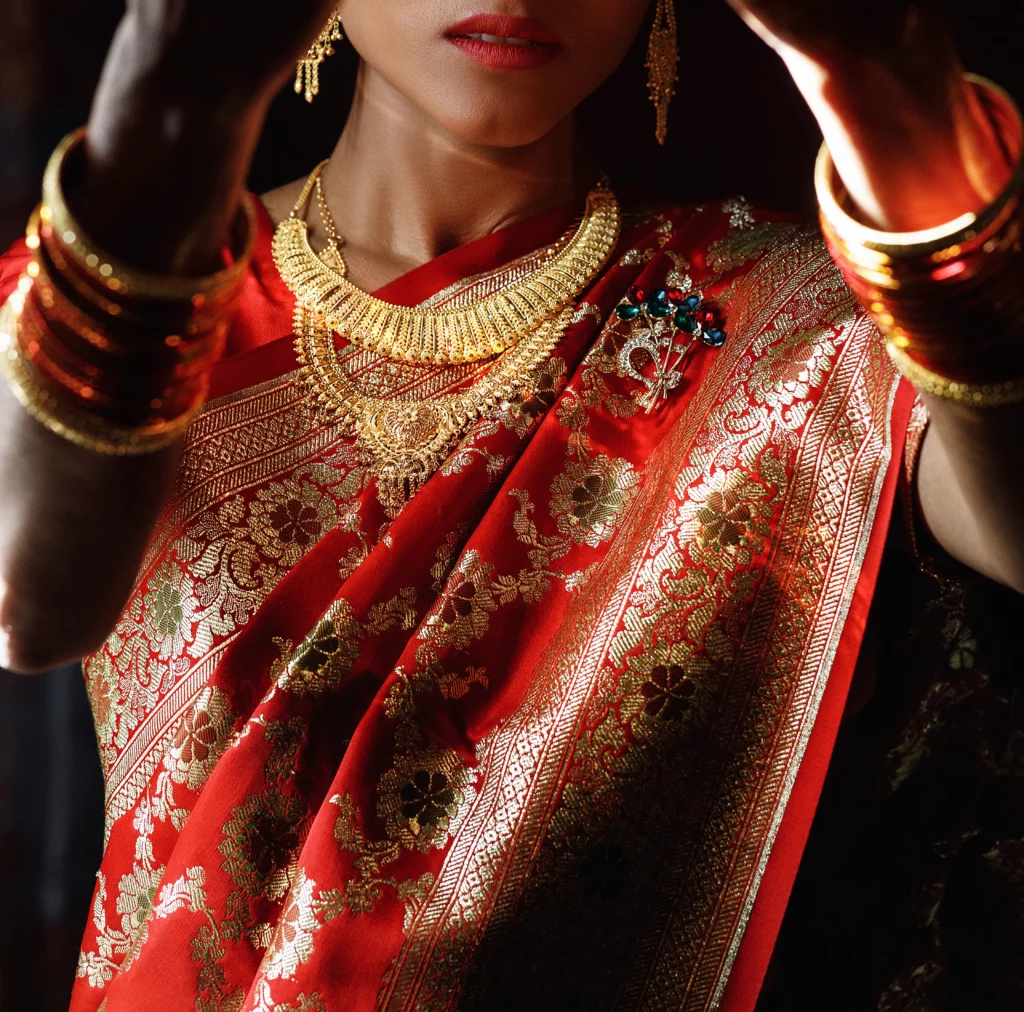 You don't need me to tell you what a Banarasi saree means to the saree lovers out there. So if you have one, why not a Banarasi Saree? For those who have yet to uncover this royal fashion, it's a silk saree made with golden and bronze threadwork. These are well known for their sophistication, elaborate designs, and sumptuous fabrics. As outfit ideas for Ganesh Chaturthi, you should surely choose a garden green color or even a pretty carnation pink color. Nice:)
Most women pair their Banarasi saree with a self-embroidered blouse and a piece of accent jewelry including a Gajra. These are usually made with sweet-smelling real flower Mogra or similar white flowers. At gintaa, you would get artificial ones which are made with either plastic or synthetic fiber of the same variety.
Price: ₹8.5K-16K
Sharara Set
Whenever it comes to modern traditional wear, Sharara hits the list. Though it has been part of the Indian heritage during the Mughal times, the modern-day sharara has been in its à-la mode. So what is a Sharara? Unlike a Palazzo trouser, the Sharara pant has a volume at the bottom portion. It has a flared bottom-wear, made in either mixed silk or lightweight cotton known as 'poplin'. They usually dazzle these shararas by adding elaborate details with zari, beads, pearls and motis, stone work, thread work, or other patterns.
This isn't one of the most commonly worn Marathi outfits but can be one of your picks from the outfit ideas for Ganesh Chathurthi. At gintaa, we have some of the best styles when it comes to these amazing Sharara Suits.
Sharara Suits in lightweight materials such as chiffon and cotton are very comfortable and an ideal fit for casual everyday apparel.
Price: ₹800-7K
Art Silk Saree as Ganesh Chaturthi Outfits
Closely resembling silk, but unlike Paithani or Banarasi Sarees, art silk sarees are way lighter. They usually aren't made on the loom and contain light strokes and threadwork. Instead, art silks are machine-made artificial silk and they usually come in various colors too.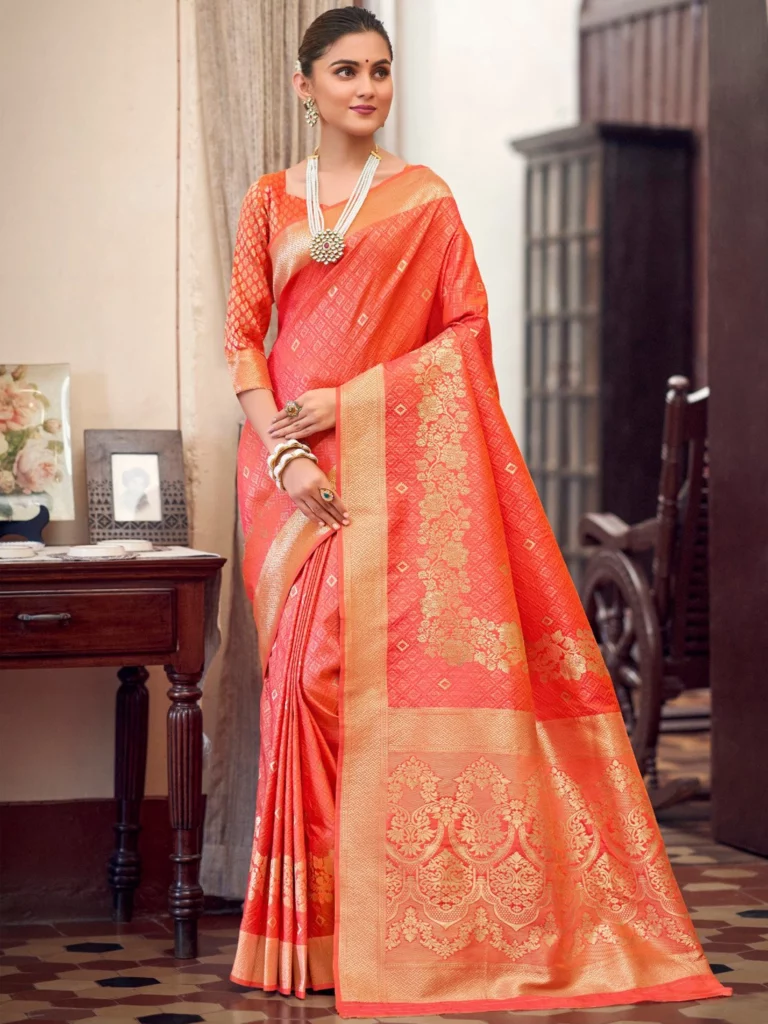 As an ethnic wear, these sarees are a little less expensive. So guess what? You can buy three at the price of one expensive Silk Saree. Made with georgette, chiffon, tissue, and even synthetic materials, you can even carry that out for the whole day, easily.
Price: ₹600-4K
Marathi Shela Dupatta
New yet not-so-new look alert! Marathi men and women celebrate Ganesh Chathurthi with a shawl-like dupatta embroidered over a simple silk cloth and fancy threadwork, wrapped across their Dhoti and dhoti-style shalu or saree. That speaks- FASHION!
Shela is rooted in the Marathi culture. Most families wrap one around the clay idol of Ganapati Bappa too. This is more of an accessory than just a style worn during the festival of Ganesh Chaturthi.
Price: ₹1.5k-2.5k
Kurta Set with Pajama for Men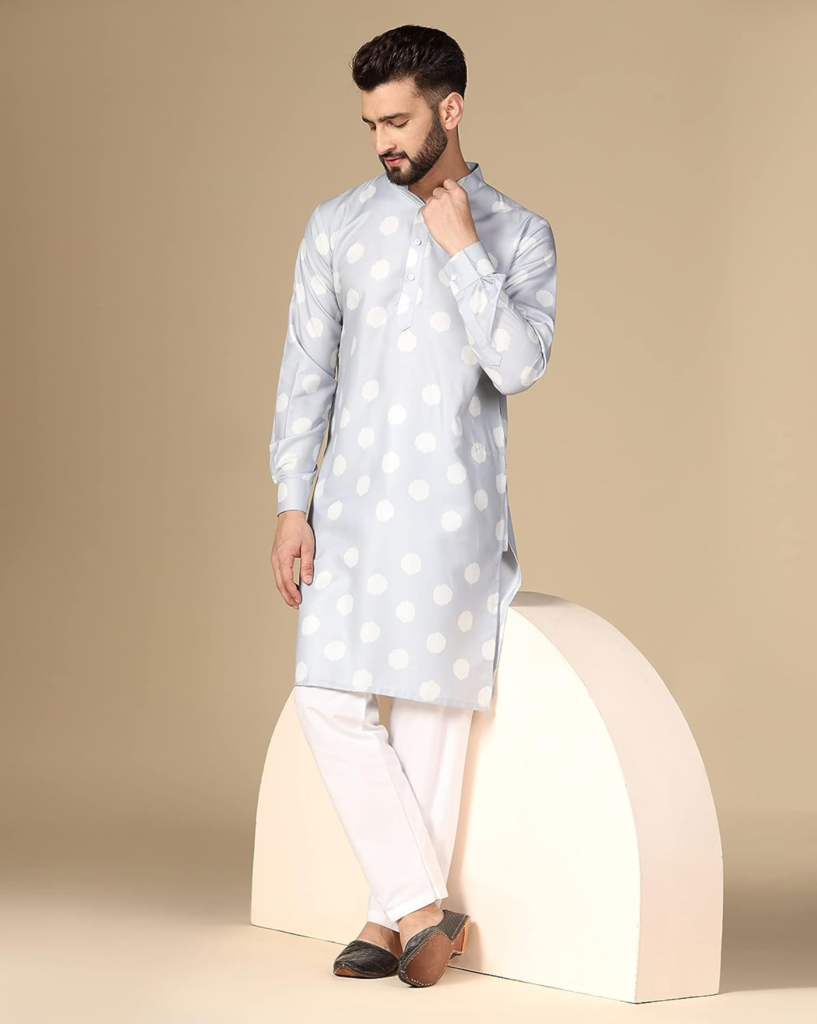 Men's fashion is different especially when it comes to ethnic wear. If it's just a kurta then most men prefer wearing it with their denim bottoms. During festivals, we always dress up a little extra, and that makes fashion versatile.
As outfit ideas for Ganesh Chaturthi, you should wear a pajama bottomwear. The material is generally silk or polin which makes it quite comfortable too. Once in a while, this look can be altered with some extra ornaments and a change in the colors.
Price: ₹900-1.7K
Royal Dhoti Kurta for Men
A dhoti is one of the oldest apparel in the history of Indian fashion. It was originally made of soft cotton and silk fabrics. These soft fabrics usually crumble Lately, dhotis are made with mixed materials or something other than pure silks. You can get readymade dhoti pants almost everywhere.
At gintaa, we have such great options for royal Dhoti pants along with a classy Kurta. To that we also have contrasting kurtas, helping you embrace our cultural roots. If you prefer something lightweight, then opt for cotton. Otherwise, there are countless options for Silk Kurtas too.
Price: ₹2.5-4K
Nehru Jacket with Kurta Pajama for Ganesh Chaturthi Mens Fashion
Nehru Jacket with Kurta Pajama is "THE ONE" among the outfit ideas for Ganesh Chathurthi. And that looks quite attractive when paired with a Shalu.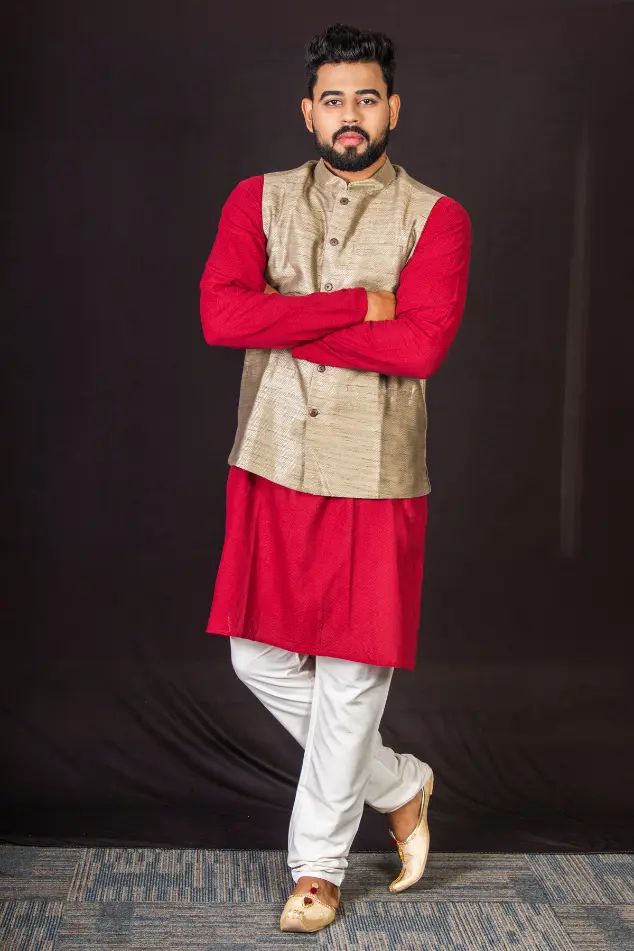 For those who haven't styled it yet, it's a hip-length, collarless jacket. The Nehru jacket is often composed of airy materials like cotton, silk, or linen. It has a Mandarin collar that stands up around the neck, a straight cut, and a button-up front.
Most men's favorite style for the Ganapati festival- "the casual kurta look" can surely be coupled it with a Nehru Jacket. Just make sure, you are buying the right sizes and apt fittings. These Nehru Jackets are often more worth the buy when it's in floral, or solid shiny color. At gintaa, you would get such Ganesh Chaturthi men's Fashion at the lowest prices.
Price: ₹1.8-2.4K
Happy Ganesh Chaturthi from gintaa
The most auspicious 10-day festival where everybody's eyes sparkle with the presence of the elephant-headed Deity is about to begin. Now, it's time to make a choice. Which of the above-mentioned styles was your favorite?
Not just outfit ideas for Ganesh Chaturthi, gintaa is your place for all your shopping needs. The best festive collection styles and the best in accessories too. Lowest prices for Men and Women's Fashion deals.
It's not just that, you can negotiate your deal with gintaa! Choose your style and buy that from us. Refer with your friends and family, which would help you earn gintaa coins. Guess what? You can use those coins for your purchase too. And the best part is?
You would get gintaa coins from that purchase too. Earn rewards for all your purchases on gintaa and use that for your next shopping spree or buy coupons to use that someplace else.
Wishing you and your family a very Happy Ganesh Chaturthi!