Durga Pujo is here again, and Kolkata is lit up in bright yellow strings of bulbs, lighting the galis and the corners of our hearts. Being here, it is quite impossible to not be a part of this vibe. Somewhere, it calls you.
The Dhaak beats, the Rabindra Sangeet, the decked-up streets, every lane that is lit. Plentiful pandal-hopping, Dhunuchi Naach, Sandhi Puja, and five days of cheat diets tell you that Durga Pujo is not just a festival. It is, and always will be, an emotion.
A little treat for friends, family, and self is always the cherry on top! Plan your Pujo with Petpujo! Here's to the best part of Durga Puja, which is none other than eating out and visiting numerous Puja Pandals across the city of joy.
There are meals handpicked by people to sell throughout the festival season, ranging from Kolkata's fast-moving foods such as rolls and momos to their incredibly delectable Puchkas. You'd be surprised by the abundance of fast food alternatives available during Durga Puja.
But not to forget, you have to plan your Pujas with the must-have dishes and the most popular restaurants in Kolkata. Just like a map of the top Durga Puja Pandals, we have curated a list of some of the best restaurants in Kolkata. Celebrate the 5 days of Durga Puja with the best of delicacies!
Top 9 Restaurants in Kolkata

Address: 17 A, Jadavpur Central Road, Near Jadavpur Telephone Exchange, Kolkata, West Bengal 700032
Cuisine: Bengali
Top Dishes: Mutton Dak Bangla, Daab Chingri, Gondhoraj Chicken, Bhetki Paturi, Kasha Mangsho, Nolen Gurer Ice-cream, Baked Pantua, Aam Pora Shorbot
Cost of Two: ₹1800, approx.
Do you want to try the real essence of Bengali food? Then 6 Ballygunge Place is exactly where you should be! It's the very first Bengali restaurant chain in Kolkata since 2003. An exquisite buffet with delectable dishes from the kitchens of Bengal- a must-try with family.
The restaurant has revolutionized Bengali food with its curated menu. If you're at their Ballygunge branch, then you have to give a shot to their famous Daab Chingri and Kasha Mangsho! Well, if you're a Khati Bangali, then I do not have to describe the licious coconut gravy and Lobster prawns cooked inside of a young coconut.
And the Kasha Mangsho? It's slow-cooked Mutton with garam masala and caramelized onions. Ahhh!! I can smell the name!
Nearby Puja Pandal: Jodhpur Park Durga Puja and Golf Green Durga Puja Pandal

Address: Kishore Bharati Stadium, VIP GATE, Kali Mandir Rd, beside Survey Park, Purba Diganta, Santoshpur, Kolkata, West Bengal 700075
Cuisine: Chinese
Top Dishes: Chengdu Chicken, Shredded Crispy Chicken, Crispy Chili Fish, Schezwan Lamb, Tawa Chicken
Cost of Two: ₹1100 Approx.
Say Chineeseeee. Say Hatari! HATARI is one of the oldest Chinese restaurants in Kolkata. The Schezwan lamb is their top-selling delicacy. It's a combination of the hot and tingly flavors of Sichuan peppercorns and dried red chiles with plenty of cumin and other spices. If you love spicy food, there you are!! Try it!
Feeling full and hopping pandal can be a little tiring. Be a soup person, then. The Sweet Corn Soup is a delectable choice for vegetarians. In this dish, fresh sweet corn is simmered with vegetable stock and garnished with cilantro and spring onions. The taste lies between sweet-salty and is slightly spiced with black pepper. That is absolute comfort food!
Hungry already? To celebrate the balance of flavors at Hatari and enjoy the most authentic Chinese in the city of joy.
Nearby Puja Pandle: Ajoy Nagar Sorbojonin Durgoutsav Society Puja and Mahishgote Durga Puja Pandal

Address: 18/1A, Hindustan Rd, Dover Terrace, Ballygunge, Kolkata, West Bengal 700029
Cuisine: Bengali
Top Dishes: Potoler Dorma, Chhanar Dalna, Bhapa Ilish, Mutton Dakbangla, Dhokar Dalna and Daab Chingri
Cost of Two: ₹850, approx.
Can you believe one of the most popular restaurants in Kolkata started from just a home garage? Bhojohori Manna was a dream come true for five buddies who wanted to explore their passion for traditional Bengali food.
The simplicity of their dishes makes the restaurant a worthwhile option for the best food in Kolkata. If you're at their Bidhan Sarani branch, then do not forget to order their scrumptious Mutton Dakhbangla with Basanti Pulao.
A sweet pulao made with aromatic Gobindo Bhog rice, whole spices, and Gawa Ghee. The bowl of yellow Basanti Pulao is combined with Mutton. And they cook theirs with wells spiced potatoes and boiled eggs. Mutton, or Chicken Dakhbangla, is a slightly different curry that is cooked like a stew but tastes unearthly! Yumaaayy!!
Nearby Puja Pandle: Hindustan Park Durga Puja and Tridhara Samilani

Address: Delhi Ice Cream Shakes & Juice corner, H933+HFM, Mirza Ghalib St, Taltala, Kolkata, West Bengal 700016
Cuisine: Mughlai
Top Dishes: Galawati Kebab, Mutton Biryani, Chicken Bharta, Parathas and Chicken Biryani
Cost of Two: ₹550 approx.
If you're in Ishq with Mughlai food, then visit Biryanishk! Earlier, they were known as the Biryani Company, serving the best of Mughali cuisine for almost 10 years. They have an appetizing spread of some of the best Kebabs and Biryanis.
Visiting 66 Pally Durga Puja Pandal and want to try something tasty? Then Biryanishk should be the best place for you. They are better known for their Handi Mutton Biryani and Chicken Biryani. You can also tip your hats to some of their Galawati kebabs.
It's minced mutton, dry fruits, and onions that melt in your mouth like Butter. For the authentic aroma of Mughali kebabs, Rose Water and Kewra water are added along with clarified ghee.
Guess what?? If you are still willing to have it and want to avoid traveling here, you can order it from gintaa. Hurry!!!
Nearby Puja Pandle: Sebak Sangha Durga Puja and 66 Pally Durga Puja Pandal

Address: CIT Rd, Beniapukur, Kolkata, West Bengal 700014
Cuisine: North Indian Food
Top Dishes: Cheese Kulcha, Sizzlers, Butter Naan, Tandoori Chicken and Butter Chicken
Cost of Two: ₹850 approx.
Serving the finest North Indian cuisine since 2002! Sanjha Chulha is one of the best restaurants in Kolkata with Dhaba-style food and a fine dining experience for families. Try out the most authentic Punjabi cuisine at Sanjha Chulha.
Their breads are cooked inside a proper tandoori and drizzled with butter. Chicken Bharta which is a shredded chicken dish cooked in a sweet and spicy butter gravy and garnished with cilantro, is a must-try!!
And if you find yourself saying, "Gorom lagche!", go for a full-filing glass of Chaash! That is a must-have drink for ingesting North Indian delicacies. BRB ordering one for mine now!!
Nearby Puja Pandle: Paddapukur Durga Puja Pandal and Park Circus Uddipani Puja Pandal

Address: KATGOLA ISLAND Nest 206, Bus Stand, AJ 31, AJ Block, Sector II, Bidhannagar, Kolkata, West Bengal 700091
Cuisine: Bengali
Top Dishes: Begun Bhaja, Mochar Ghonto, Egg Thali, Mutton Thali, Chicken Thali and Rice Bowl
Cost of Two: ₹500 approx.
Visiting the Newtown Sarbojanin Durga Puja Pandal? Since you are here, step in to try out Aami Bangali! They have the best Bengali dishes and thalis, which bring back memories of home.
Their fish thali and every other non-veg thali consist of some of the most nostalgic dishes. It includes Sona Moong Dal, Jhuri Jhuri Aloo Bhaja, Rice, and a side dish chosen by you. Being a Bengali we cherish homely food more than anything else. Agree??
Aami Bangali caters to that comfort zone, making homely Daal with Panch Phoron, asafoetida, ginger, and lastly, ghee. "Ki darun khete!" Relish that with crispy potato fries and other side dishes. You can even try this restaurant to order food online.
Nearby Puja Pandle: AJ Block Durga Puja, FD Block Durga Puja and BJ Block Durga Puja
7. Sabita Restaurant- An All-in-Place for Food Lovers

Address: 163, Dum Dum Rd, Bahiragath Colony, Jhilbagan, Dum Dum, Kolkata, West Bengal 700030
Cuisine: Bengali and Chinese
Top Dishes: Egg Roll, Mutton Kasha, Chicken and Mutton Biryani, and Mixed Noodles
Cost of Two: ₹500 approx.
Well, Sreebhumi would be your top-most priority on the Puja Pandal list! Of course, it's Disneyworld for this year's Puja theme. Guess what? Sabita Restaurant is a great option next door in the Dum Dum area. They are one of the most affordable restaurants in Kolkata.
Starting with the best of fast food, they have great noodles, fried rice, and main course options too. Starting from Chinese to North Indian cuisine, they have a plethora of options for vegetarians and non-vegetarians! You should try their Bhekti Fish Fry with Kasundi! Fresh Bhetki fish is coated with egg and bread crumbs and then deep-fried in refined oil. The taste is heavenly, and the experience is certainly worth it. And Schezwan prawn!! Ah! I leave it to you to unearth the taste!
Nearby Puja Pandle: Dum Dum Park, Bharat Chakra, and Sreebhumi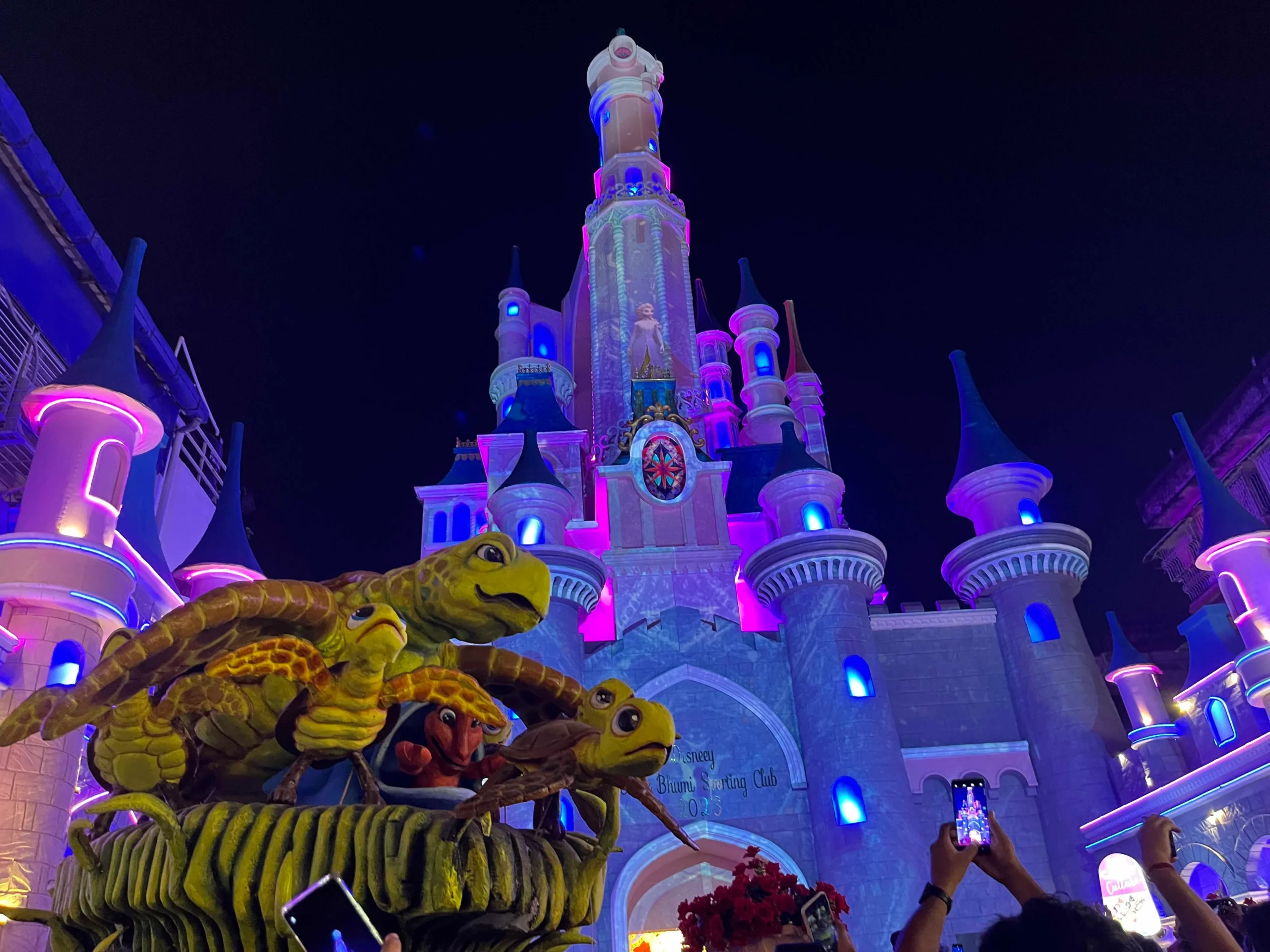 8. Bangaleana- A Paradise for Bong Food

Address: Service Rd, Chinar Park, Sukanta Pally, Baguiati, Kolkata, West Bengal 700157
Cuisine: Bengali
Top Dishes: Mutton Pulao Combo and the Fish Thali
Cost of Two: ₹950 approx.
Heading to Chinar Park? Or do you just want to try out something new and budget-friendly during the pujas? Well, Bangaleana is a great option for a pleasing dining experience.
You can order food online from gintaa as well as enjoy their fine restaurant experience. This is one of the most affordable restaurants in Kolkata. The best mutton kasha and Bengali pulao which is filled with dry fruits and finely chopped vegetables. The Pilaf has a homely taste of tradition and the fragrance of clarified butter.
The mutton on the other is equally spicy and delicious. They make their mutton with a stew of Bottle gourd and potatoes. Bangaleana is a great place to try out authentic Bengali cuisine without punching a hole through your wallet. This is an absolute paradise for budget-friendly Bong delicacies.
Nearby Puja Pandle: Samarpally AB Block Durga Puja Pandal

Address: 20 Shakespeare Sarani, Camac St, near Shital Medical, Kolkata, West Bengal 700071
Cuisine: Desserts
Top Dishes: Cakes, Pastries, and cream puffs
Cost of Two: ₹200 approx.
It's now time to try out some of the best desserts! FnP or Ferns and Petals has been in the gifting business for almost 30 years. They have a dessert chain called FnP Cakes across India. In fact, this is one of the most popular dessert destinations near Central Kolkata.
When it comes to food, it's so incomplete without a dessert. Be it Durga Puja Pandal Hopping or a normal course meal, we always have that small room for a bucket of dessert. Sweet Tooth! Give FnP cakes a shot! Try out their varieties of pastries and other innovative desserts. Freshly baked cakes decorated with butter cream and ganache
Sprinkles, chocolate cake toppers, fondant, and lots more There are a variety of flavors, like chocolate, butterscotch, vanilla, and many more. You'll certainly get a sugar rush at FnP Cakes!
Nearby Puja Pandle: Bhowanipore 75 Pally, 68 Pally, Mallik Bari Durga Puja and Bhowanipore Sarbojanin.
Conclusion
Now that you know where to go, it's up to you which cuisine you want to try out. Even though you are lethargic but want to try out one of these top 9 restaurants in Kolkata, you have an option. You can try these best restaurants in Kolkata with gintaa food.
You can order food online from gintaa Food! Try out these amazing places from the comfort of your home and order the top-selling dishes. Get the best Chingri Macher Malai Curry with Vegetable Pulao at your doorstep! Plus, get unbelievable discounts and rewards. Redeem them later on your next order. Okay, I'm already hungry!
You go pick out the most popular restaurants in Kolkata while I order my favorites from gintaa food! Have a foo-delicious Durga Puja!